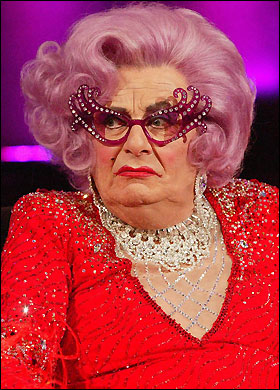 Man that looks like a woman
A shocked woman from Perthshire, Scotland, has just found out that her 'boyfriend' of eight years was actually a woman.
Samantha Brooks, 26 from London, duped the mother of two, who did not want to be named, into believing she was a man named Lee Brooks.
Brooks would not allow the woman to touch 'his'penis because of testicular cancer. On intimate occasions, she used a prosthetic, even indulging in quickies down alleyways. She also used cling film and bandages to hide her breasts, saying she had burns that needed to be bandaged.
The penile imposter also claimed to have fathered 9 kids (classy) and made her unwitting victim take pregnancy tests to ensure another wouldn't happen (very classy).
But despite all of this and a complete lack of any facial hair, the lovelorn woman was not suspicious. ''I've only known him as a man, and that's what he still is to me," she said. Brooks would apparently cover herself up with bubble bath when bathing, and ''would sit in the house with his boxer shorts on."
The woman's family were not as gullible, when her uncle met Brooks he remarked: ''He said, 'Well he doesn't have an Adam's apple and he shakes hands like a b**** – that's a lassie".
They met by accident after Brooks called the wrong number, and struck up a friendship and then a relationship. Brooks was called 'dad' by the woman's children from a previous relationship, and the two planned to marry before breaking up at the end of 2009. She only found out that 'Lee' was in fact 'Samantha' when the police called her. Brooks had allegedly tricked another woman with the same ruse.
Brooks has pleaded not guilty to obtaining sexual contact by fraud from two women and to two counts of assault at Glasgow Crown Court. About the relationship, she said: ''She hasn't got a leg to stand on. There is no evidence. I wasn't going out with her. I've never had a relationship with her."
By Jonathan Anderson