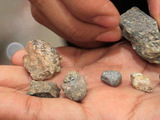 Say what?
Seven-year-old Kura Nitya from India has baffled medical science by crying stones from her right eye. Apparently the stone shedding has been going on for about two weeks now, and doctors are completely stumped as to how on earth Nitya is crying stones.
Nitya's right eye swells before the stones come out and has been crying 12-25 stones a day. Nitya's grandfather, Gopal Reddy told th Star online, 'Initially, we thought it was some divine power and prayed to God for this phenomenon to stop.'
The stones are being kept for testing, however what we'd like to know is why is this poor kid crying 12-25 times a day, let alone crying stones.Fuck the doctors send this kid the cast of Sesame Street, that should sort it!
For more funny news click here