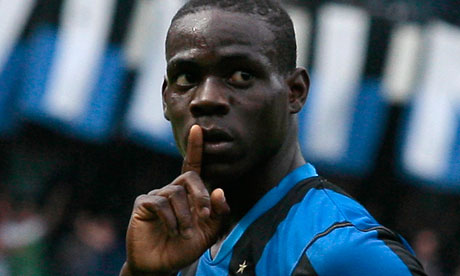 While the rest of the world forgot who Olivia Newton John was some time in the late eighties, in the Pure Blonde-addled mind of Australians everywhere, she's still part of the Hollywood elite, regularly gracing the red carpets of Tinseltown when she's not bravely championing the cause of brain training on the Nintendo DS.
Consequently, in our three-year exile Down Under, BBM has seen the film Grease no less than 187 times, so our view of what constitutes a "bad boy" (slicked back hair, leather jackets, numerous song-and-dance routines etc) may have been slightly warped. Thankfully, we're avid readers of that fine bastion of hard journalism, The Sun, and can therefore point to the Danny Zuko of the Premier League, Mario Balotelli, as football's perenniel bad boy.
So what really makes a bad boy then? Well judging by Balotelli's actions this month it's staying up late at a restaurant, and becoming involved in a humorous – but ultimately blameless – misunderstanding with the police.
The 21-year-old forward was spotted breaking Man City's 1am curfew by eating at an Indian restaurant before a game. He even signed autographs and posed for pictures with fellow diners after being involved in a playful sword-fight with rolling pins with a friend.
As for the police incident, he had his brand new Maserati confiscated by police who thought he didn't have the proper paperwork – but he did. To be fair to the filth, he famously had his previous Maserati impounded 27 times, so they had cause to collar him.
Still, it hardly makes him Jack the Ripper does it? Throw in his previous antics of setting off fireworks in his house and throwing darts at people and he's only a pea-shooter away from being Dennis the Menace.
By Peter Simpson and Richard Gadsby