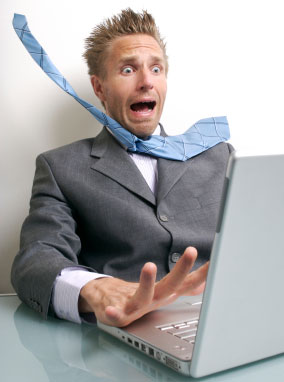 An Egyptian man had a bit of a surprise when he ventured online to watch his first ever pornographic movie. Yeah, you're thinking, you get used to it. Well, he might not.
The man, who has been named only as Ramadan, literally collapsed in disbelief as he spotted his wife on screen.
Ramadan had gone to an internet café to watch the film, which could be considered a risky move, especially for a first-timer, and got a little more than he bargained for.
Upon coming around from his shock, Ramadan found his wife in 11 different adult movies, and rushed home to confront her.
Despite putting up a fight and swearing at Ramadan as she denied the allegations, Mrs Ramadan eventually confessed when faced with the evidence.
Mr and Mrs Ramadan have four children together and have been married 16 years, yet she claimed to still be in love with her pre-marriage boyfriend with whom she starred in the videos.
But despite watching his first ever porno, in an internet café, fainting, and subsequently finding his wife in 11 films, Ramadan was obviously not quite embarrassed enough, as he decided to go to Egyptian newspapers about his revelation.
He said: "I found 11 films showing my wife in indecent scenes with her lover… it was the first time I watched a porno film and I did this just out of curiosity."
He even admitted that his wife said that her boyfriend is as young as her, whilst Ramadan is 'an old man'.
Though he did not say whether the couple plan to divorce, we're assuming this wasn't quite the "happy ending" Ramadan was looking for.
By Ella White
@ellaflo_xo
Rihana Gets Her Tits Out… Again… Read HERE