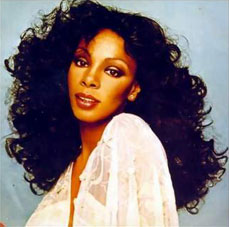 So Donna Summer has sadly died, but what kind of sick bastards would we be if we didn't provide you lot with some ill timed jokes. So please sit back and enjoy our collection of Donna Summer jokes.
I was never a great Donna Summer fan but it's always very sad to hear of a singer passing away that isn't Cliff Richard. John, Jundalup
Donna Summer has died.
I heard it on the radio. Ben, Balmoral
I think people should stop the disgusting jokes about the sad death of Donna Summer.
Enough is Enough. Billy, St Kilda
Gary Glitter has led tributes to Donna Summer by releasing a new single.
'Love To Love Your Baby' is out on Monday. Shane, Paddington
A few years ago someone told me Donna Summer had died.
This time I know it's for real. Denise, Surry Hills
Finally we can all look forward to a hot Summer…shame it's only going to be Donna's cremation. Ian, Windsor
What song is Donna Summer singing right this very second?
"Heaven Knows" Mark, Richmond
The weather forecasters weren't wrong when they said there would be no summer this year. How the hell did they know about Donna so early? Jay, Melbourne
Ten minutes after Donna Summer's cremation her family were found searching the crematorium for her ashes.
'How will you know when you've found hers and not someone elses?' Asked the vicar.
Her mum replied "I'm looking for some hot stuff." Alfie, Manly