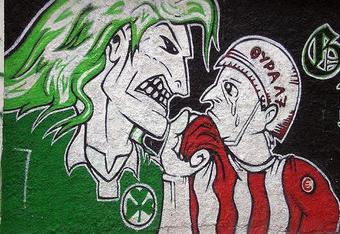 Not since almighty Zeus, king of the Gods, descended from Mount Olympus to crush those pesky Titans has Athens seen as much carnage as it did during last month's Athens derby.
For if watching Hercules: The Legendary Journeys in the middle of the afternoon every day for three years at University taught BBM anything (other than a Pub Quiz-level knowledge of ancient mythology) it's that the Greeks love a good punch up.
And with the country's economy floating down the river Styx, it was perhaps inevitable that last month's match between Panathinaikos and Olympiakos would prove just the spark that a restless, moneyless Athens public needed to vent their rage.
In the immortal words of another Greek God, Ron Burgundy, "it went up a notch."
Three fire trucks were called in to extinguish flames as unruly Panathinaikos fans set several sections of the stands on fire.
The start of the second half was delayed by 45 minutes as fans pelted police with flares, molotovs and missiles and was subsequently abandoned altogether with nine minutes remaining with Olympiacos 1-0 ahead.
Several petrol bombs exploded close to the pitch, prompting referee Anastasio Kakos to end the match prematurely and pull the players off the field.
Panathinaikos captain Kostas Katsouranis said Greek football had been shamed.
"That was not football," Katsouranis said. "Certainly it's one of the worst moments in Greek football and I don't even want to comment on the game."
Twenty police officers were injured and over 50 arrests were made, while 10 molotov cocktails, sticks, firecrackers and two knives were confiscated by the authorities, police said. It has not been reported how many plates were smashed, but early estimates put the figure in millions.