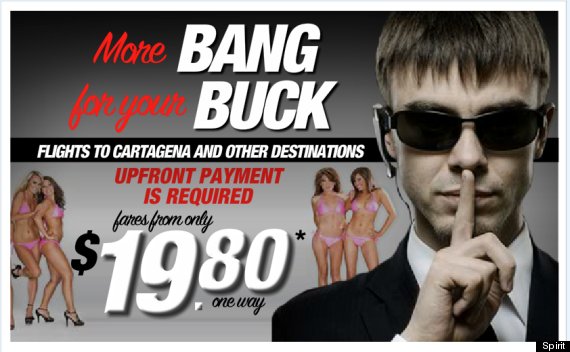 Spirit Airlines are making quite a name for themselves with their ticket-selling ploys. Having mocked an array of news scandals from Tiger Woods and Charlie Sheen to Rob Blagojevich and former U.S. Congressman Anthony Weiner.
Their latest promotion, dubbed "More Bang For Your Buck," parodies the recent U.S Secret Service's prostitution scandal in Latin America. An agent takes the forefront with four scantily clad women in the background, offering flights to Cartagena, Columbia from just $19.80.
The budget airline is presumably ridiculing the news that, just before President Obama arrived for a summit with Latin American leaders, members of the U.S. military personel and Secret Service were in hotel rooms with at least 20 women.
One sex worker even accused a Secret Service agent of not paying her in full.
This is just the latest of Spirit's playful advertising schemes. In May 2011 they donned the slogan: "Fares so low, you can take the whole family… Including that half brother you just met." Poking fun at Arnold Schwarzenegger's "love child" whom he had fathered 20 years previously with Mildred Patricia Baena, a member of his household staff.
By Ella White
@ellaflo_xo
Egyptian Man Finds Wife In Porno… Read HERE